Meditation is a simple practice available to all, a tool to help you focus your mind and to help you to become less stressed, calmer and promote happiness as you learn to let go of distractions and become present in the moment.
Studies show that meditation can have a positive impact on mental and physical wellbeing. The benefits of meditation don't end when your meditation session ends. Meditation can help you feel calm throughout your day and help you to live more fully in the present.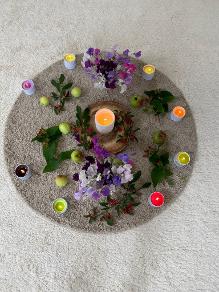 Learn to Meditate
Do you want to meditate but don't know where or how to start?
Are you searching for a secular, easy to learn technique to help you to let go of stress, promote calmness and to be more present in your life?
Would you like to learn about the benefits of meditation?
I conduct 1-2-1 or group sessions, let's work together!
'The quieter you become, the more you can hear' Baba Ram Dass